Wanting a walk,
But not wanting to walk too far (or through any potentially muddy fields) – we decided to make an afternoon of it on the short walk in Rothbury scouting out the unfinished and abandoned Old Rothbury Railway. 
Start/End
Start Track
Mill Lane
Rebellion
Sharp's Folly
Some people prefer park and ride,
But in our case, it was park and pee – with Rachael desperate upon arrival. I myself was quite distracted by the Ice Cream Van whilst she frantically searched for a public toilet. Thankfully, one was not too far away near Rothbury High Street. 
Bladders emptied, it was time to cross back over the river to set off along this short walk via Station Road.
Just before arriving at the first turn to veer off into an industrial estate is the 📌 Coquetvale Hotel. The hotel was originally built to accomodate railway passengers for the line which now lies abandoned.
Arcing around the industrial estate, it appeared to lead to a dead end which would have brought the already short walk to an abrupt end.
Luckily, a subtle opening alongside a metal industrial fence led to the public footpath that is mentioned in our guide.
After 100m or so, the scenery changes drastically and we were presented with imposing walls on either side of us. These were rock faces that were originally blasted through (presumably with dynamite) to make way for the railway line. 
Escaping the shade of the tall walls and thick trees, we walked alongside the field that connects to Mill lane. When it was time to turn, Rachael and I had our obligatory route disagreement to which I'm sad to report, she was correct.
Rachaels triumphant attitude was brought crashing back down to Earth when her customised Love Island drinking bottle eluded her grasp – gently bouncing off the concrete.
This minor impact shattered the high-quality plastic of its construction, spraying precious water everywhere – much to Rachael's utter dismay.
Once Rachael had come to terms with her loss, we pressed on up the gravelly path alongside a housing development towards Rothbury Middle School where our path lay blocked by metal fences and construction equipment.
After Rachael scoped out that there was no realistic way to progress by going around the fencing, I committed the criminal act of slightly moving the fence so that we could squeeze through.
High on adrenaline from the rebellious act just committed, I stopped for a moment to take the picture above / to the left.
It was at this moment the urgency of completing the walk ratcheted up a few notches as I became victim to some digestive distress (read: IBS).
Not to be defeated however, we still decided to take the quick detour mentioned in the guide to quickly check out Sharp's Folly – passing a lovely rustic farm building or two along the way. 
Sharp's Folly was erected by Rev Dr Thomas Sharp, to relieve unemployed stonemasons in the 18th century.
With the digestive distress not subsiding, it was time to briskly head back down the hill to the car park – and more importantly the public toilet – which acted as the origin of our walk.
Along the way we passed by more stunning fields and some interesting architecture within Whitton. I particularly liked the wooden gate (pictured) because I'm just a bit sad like that.
After crossing the river once more and practically jogging to the loo – I made it just in time!
I then celebrated with a posh coffee (and a Coke Zero for Rachael) at a nearby pub before we headed back to the car park to head home.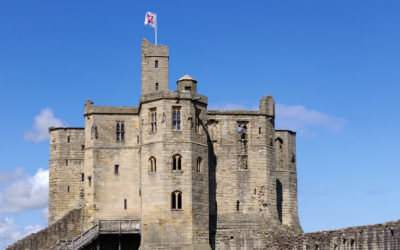 We needed a short walk for Rachael. It just so happens that Warkworth Castle is one of the shortest routes in our guidebook!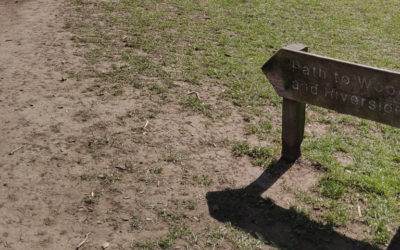 One of the shortest walks in the guide book was just over 2km at Plessey Woods – perfect for the heavily pregnant wife.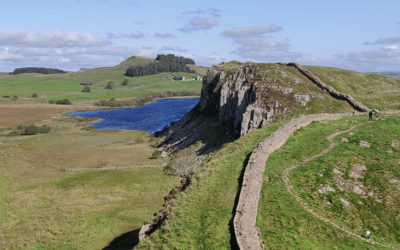 With what may just have been the final sunshine of 2020, a hike to the famed Sycamore Gap was in order.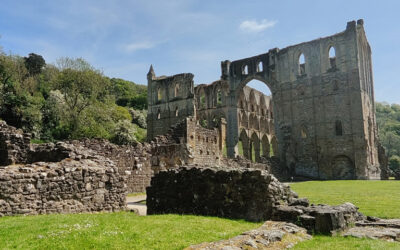 Stonehenge was somewhere I'd wanted to visit for the longest time. So, despite the torrential rain, we decided to pay a visit.