From Flodden battlefield to Humbleton Hillfort,
Built in either the Neolithic or Bronze Age, Humbleton Hillfort was our second walk of the day – following on from the nearby Flodden Field.
Upon arrival it was clear to see this walk was going to be much longer and challenging. 
Start/End
Homildon Cottage
Pond
Ascent 1
Ascent 2
Summit
Blocked by a private road sign,
We parked up alongside the road headed towards Homildon Cottage. Whilst the cottage benefits from a private road – the route itself is a protected public right of way. 
Passing the cottage, I did a bit of Googling and found that you can indeed rent 📌Homildon Cottage which appears to be designed for week-long stays working out around £110 a night.
Just past the cottage is the gate that leads to the beginning of Humbleton Hillfort trail.
We took a moment to assess its height and bemoan the incline ahead before soldiering on.
As we ascended the comfortable beginning portion of the climb, we passed fields of sheep enclosed with electric fences and styles that included a special doggy passthrough which we thought was neat.
At around the fifteen to twenty-minute mark, I was surprised to see a pond of clear blue water – perfectly reflecting the sky above. Rachael then pointed out that the pond was clearly marked in the guide and that my lack of observation skills never cease in worrying her… 😒
After the pond, the incline got a little steeper as we passed a boundary wall and the aforementioned style, complete with electric fence warning and doggo-exclusive route.
It was here, as we rounded the corner in order to spiral up the hill that the incline got serious. Our heart rates climbed and calves burned as we marched through this section.
I prefer to tackle hills as quickly as possible, then spend longer recovering at the summit – and in a bid to keep up with me Rachael did the same.
As we stopped for a breather, I spotted a shiny beetle on the grass path and had no choice but to see if I could get a reasonable macro shot.
Dubbed Mr Beetle at the time, later research revealed them to be Mrs Beetle – a Scarab Dung Beetle.
I submitted the sighting to BRC iRecord, which was challenging in itself as it's clearly designed for professional Entomologists.
Following the pitstop to say hello to Mrs Beetle – the steepest part of the route lay ahead.
It was here where we were beginning to push our incredibly unfit bodies to the test. At one point, Rachael's fit bit recorded a heart rate of almost 170 – approaching dangerous territory.
We took an extended break to allow Rachaels heart rate to come back down to something more reasonable when hill climbing and hopped over our final style and approached the summit.
Finally, after close to an hour of climbing the hill, we had made it to the pile of rubble that lay at the top of the hill.
The sight of a few makeshift benches fashioned out of wooden blocks was most welcome and I decided to sit on those inside the rubble to take advantage of the windbreak.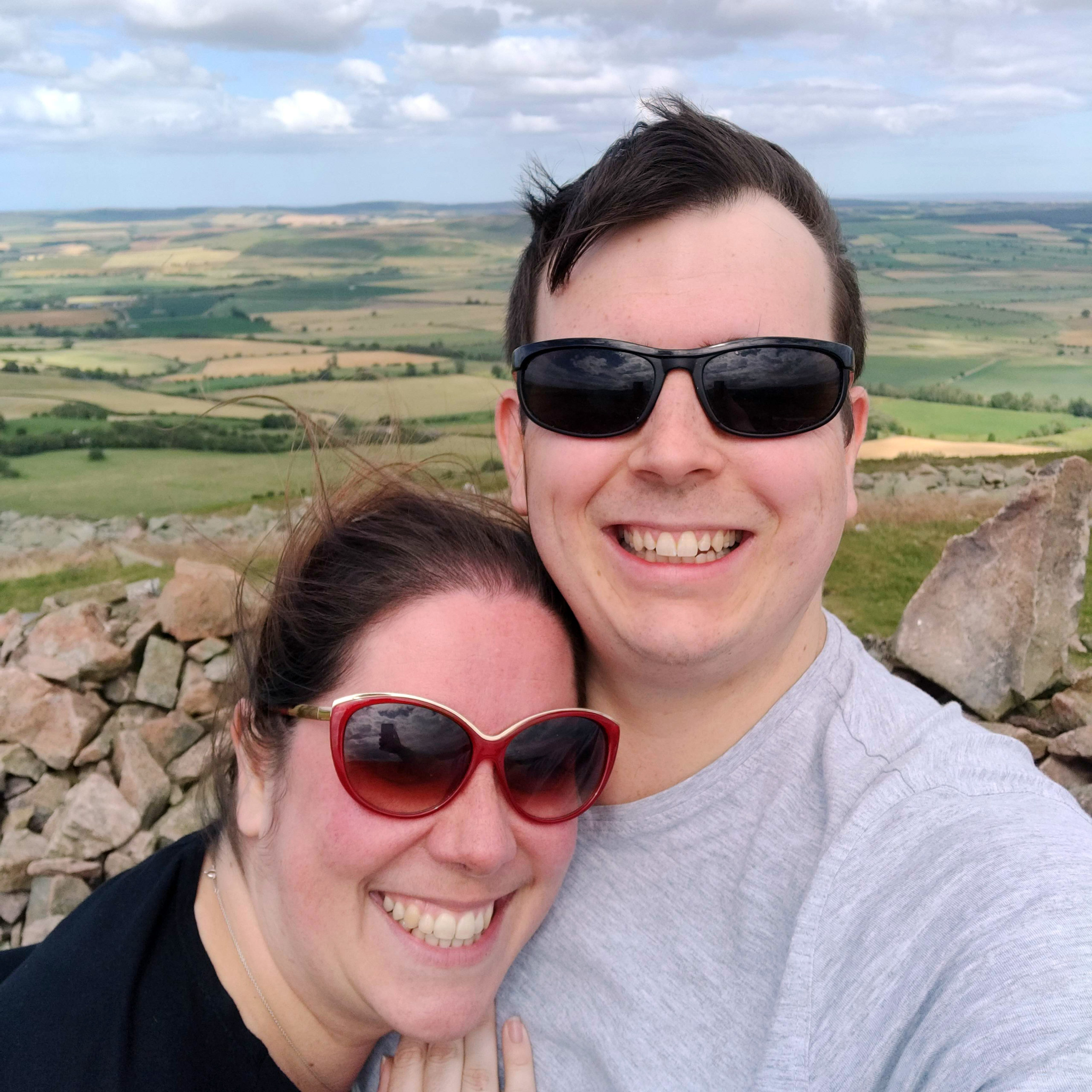 After taking a selfie in which you can see the North Sea and Lindisfarne National Nature Reserve in the background, we sat down for a proper break.
Noticing that I had a strong 4G signal, I tried my luck and video called my friends Gary & Lesley. I'd be lying if I didn't say I was equal parts thrilled and annoyed.
Thrilled to be able to chat with my friends on a flawless video call from the top of a remote hill. 😁 Annoyed to know that there's better internet available on the top of a remote hill than I have access to at home… 😠
After a proper rest and checking in with friends, it was time to head back down. Rachael noticed that it was possible to spot the car from the summit and kindly posed, pointing whilst I took a picture for evidence!
The descent was steeper than any of the ascent sections (which makes sense) and whilst it was rewarding to take in how much elevation we'd tackled – my knees and feet did not thank me for marching down quickly.
At the bottom of the hill were plenty of Sheep with their lambs enjoying the sunshine.
I managed to get close and cop a few pictures of some particularly well-behaved sheep.
Shortly after these images were taken, they got up and strutted away as if to say 'you've had your picture, now please leave…' to which I obliged.
Finishing up at the very bottom of the field connected to the hill, we headed through one gate and headed back down to the original gate we had entered through.
I stopped to take a second picture of the summit we had just conquered before I excitedly marched back down to the car – it was time for a hard-earned pint in 📌 Wooler!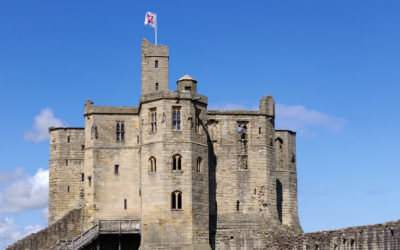 We needed a short walk for Rachael. It just so happens that Warkworth Castle is one of the shortest routes in our guidebook!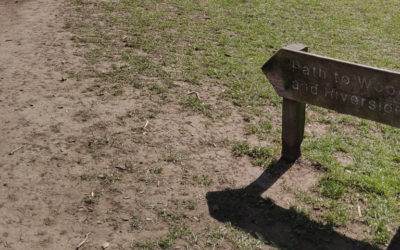 One of the shortest walks in the guide book was just over 2km at Plessey Woods – perfect for the heavily pregnant wife.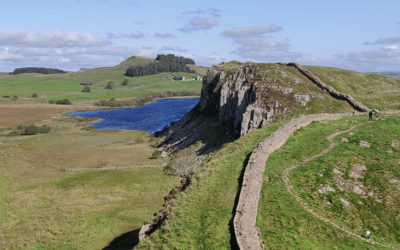 With what may just have been the final sunshine of 2020, a hike to the famed Sycamore Gap was in order.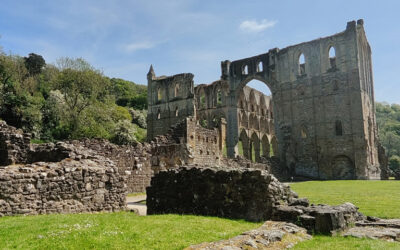 Stonehenge was somewhere I'd wanted to visit for the longest time. So, despite the torrential rain, we decided to pay a visit.