With some special guests in tow,
We set out to see the Meeting of the Tyne, a route near Hexham that ventures out to see where the North and South Tyne meet to form the main river. Those special guests were my parents, who needed a walk that wasn't too long and mostly flat, steady ground – this route seemed to fit the bill.
Start/End
Hexham House Grounds
Cafe Enna
Boatside Inn
Meeting of the Tyne
Route Details
7.5km (2.5 hours)
Map OS Explorer OL43
Parking Free (Some spaces require parking disc)
Pulling up to the vast Waitrose car park,
We set our parking disc to our arrival time of 1PM and popped it into the car window. Consulting the guide, I decided we should walk the route in reverse as it was already the afternoon on a Sunday and there might be things to see in Hexham if we head there first before everything inevitably closes at 4PM.
'We will be back for half 3' I said confidently, grossly overestimating my parents walking speed.
Upon arriving into the ghost town that was Hexham centre that day, it was clear that Coronavirus fears were still in full effect. The famed Abbey along with the vast majority of shops and businesses were closed.
As we began to make our way to the golf course, we stumbled upon Hexham House Grounds. As it was open and unlike the rest of the town centre had actual people in it, we decided to take a small detour through. 
Meandering around the grounds and following the noise, we emerged just beyond the stream to find 📌Sele Park and the delightful sight of an ice cream van.
After extorting my parents for an Ice Cream just like 20 years ago, we made out way down the road past plenty of families thoroughly enjoying the park to its fullest.
Heading over another stream crossing we ended back on the official route (albeit in reverse) and came across many stunning stone buildings built in the 18th and 19th century.
As we made our way towards the golf course past the old Bus Depot that my dad particularly enjoyed seeing, Google Maps foretold of Café Enna which was open and trading to take a quick pit stop.
After crossing the railway tracks to get to Café Enna, which accompanies Tynedale Golf Club, We took our first proper break and my dad, his first beer. It was at this point my parents told me they were used to much more frequent breaks on the walks they do, a small hint that I can't simply expect them to keep up with my usual military pace!
After finishing our drinks, the wife and I had our first disagreement about the route ahead. I forced us to cross the tracks again when she said we could simply walk the outskirts of the golf course. In hindsight, she was right and both she and my parents ridiculed me for it appropriately. 
As we progressed down this very long path with no benches, much to the dismay of my parents, we encountered what I believe to be the ruins of 📄 Hexham Old Bridge which was completed in 1770.
After reassuring my parents it wasn't too much farther to our halfway point, we passed underneath the A69 and under the train tracks once again to see some stunningly secluded properties with some gorgeous scenery.
After finding another dream home (they all seem to be hidden down remote and rural roads!) we crossed 📌 Warden Bridge.
Our pace quickened as we spotted 📌 The Boatside Inn, knowing that toilets and hydration were not too far away.
It was lovely to sit outside and enjoy a proper drink in a pub at the halfway point of a walk again. It's something that had not been possible for a while due to Coronavirus keeping pubs and restaurants closed.
I fully expected my dad to do something stupid whilst there and he didn't let me down. Absent mindedly walking into the restaurant kitchen whilst looking for the toilets and having to be turned around by staff… 
Suitably rested, we headed back across Warden Bridge and back down the country lane we had already seen. The guide spoke of a path that ran right along the river, but I was unable to spot it. I got as far as my dream house when I turned to see my parents and Rachael stood with smug faces as they pointed towards the correct path 50 metres back down the lane. 
Now on the correct riverside path, we went under the steel railway bridge, crossing its path for the 5th and final time.
As we approached the Meeting of the Tyne rivers, I once again took us on a slightly incorrect route.
Not to be outdone by my dad, my mum turned too quickly, slipped in a comically banana peel fashion before crashing to the ground like a wrestler taking a bump.
After helping her to her feet and checking she was OK save for a back full of nettle stings, true to form she decided to take the direct route back to the correct path by wading through thick grass, risking another fall in the process.
Three and a half hours after setting off, Rachael and I finally made it to The Meeting of the Tyne rivers to take our obligatory selfie.
As we officially began heading back to the car, sensing their old bones were struggling, I insisted my parents set the pace for the return journey.
Partly, to stop me from going too fast for them and partly to be able to act as supervision to avoid any further mishaps.
As we navigated this woodland stretch, the train tracks came back into sight once again and my dad excitedly doubled his pace in an attempt to get back to the tracks before the next train passed by. 
We rejoined the path we'd walked previous alongside the railway tracks to find my dad panting for air, sweaty and disappointed as he'd missed a train passing by mere seconds 🤣.
Luckily for him, a few minutes later another train went past which solicited a victory fist bump from my dad as it sounded its horn for him. Best day ever!
Upon returning to the golf course, 25 minutes from the car and 4 hours after initially setting off, my parents threw in the towel and asked us to pick them up from Café Enna where we had taken a break earlier in the day.
Double-timing it to the car, we jealously passed a small park with families having fully-fledged picnics and BBQs before arriving back at the main road and across onto the Waitrose car park ready to jump in the car, pick up the broken old people and drive home.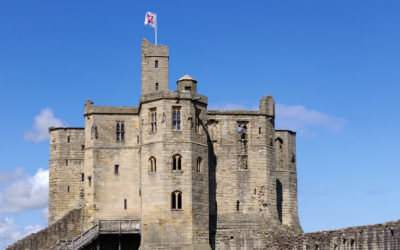 We needed a short walk for Rachael. It just so happens that Warkworth Castle is one of the shortest routes in our guidebook!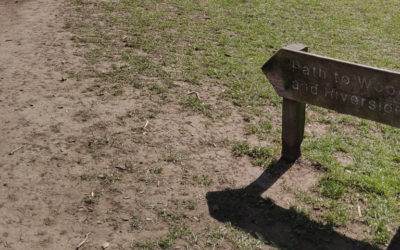 One of the shortest walks in the guide book was just over 2km at Plessey Woods – perfect for the heavily pregnant wife.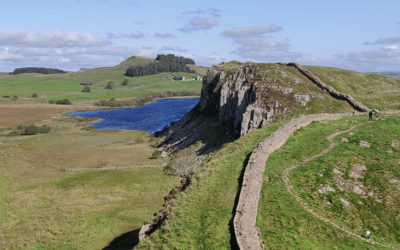 With what may just have been the final sunshine of 2020, a hike to the famed Sycamore Gap was in order.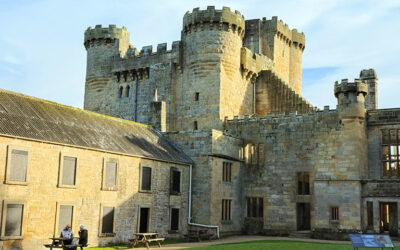 On a rare sunny but cold Autumn Sunday, we head to one on our hit list – Belsay Hall, Castle and Gardens in Northumberland.