After Almost 2 Months Of Lockdown,
The government had loosened restrictions on travel and it was a sunny bank holiday Monday – The perfect excuse to get back on the hiking horse.
Looking to ease back into things gently – we selected Swallowship Pool which represented a relatively short walk and commute to boot. 
Start/End
Dukes House
Five Gates
Devils Water
Swallowship Pool
Home Stretch
Route Details
3.5km (1 hour 30 mins)
Map OS Explorer OL43
Parking Limited layby parking on road
Parking between a rural Sports Centre and a JW lodge,
It's a very short walk from the layby to the starting line.
The route starts down a private road yet public footpath guarded by the striking North Lodge House which I initially mistook for the famed Duke's house that we actually stumble upon around 10 minutes into the walk.
As we passed through the gate onto the private road, it seemed like an infinitely straight path flanked on one side by stunning woodland and a stone wall and farmland on the other.
Along the way, there were many openings on the woodland flank, inviting explorers to step away from the beaten path into the relatively uncharted woodland – but on this occasion, we decided to stick to the path and guide.
After around 10 minutes trekking we came across the old Walnut tree (forgot to grab a picture) described in the guide book said to mark the site where Henry Beaufort, 3rd Duke of Somerset, was captured following defeat at the Battle of Hexham in the 1400s.
Shortly following the famed Walnut tree is the actual Duke's house which is beautiful in full sunlight but could easily pass as the set for a horror film at night with its old stone neo-gothic structure and chimneys.
Asking Rachael whether she'd like to own a home like that one day she exclaimed 'Yes, but at night I'd have to lock myself in one room so that the ghosts couldn't get me!' 🤣
Pressing further down the path, we were on the lookout for the Five Gates ruins which signalled where we were meant to take a turn. After wandering around for 5 minutes trying to decide whether we had arrived at the ruins we gave up and took the turn…
It eventually turned out that we had indeed taken the turn slightly too early – the moral of the story being keep walking until you see the actual landmark described in a guide before changing your heading!
After heading down a steady decline through predominantly ant-infested woodland tracks we arrived at what we thought was the steep route down to Swallowship Pool. Whilst debating, a couple was headed in the opposite direction who were helpful enough to confirm it was indeed the correct way to head.
Following the descent (and subsequent realisation what a challenge it would be to ascend it again) we were greeted by the super peaceful surroundings of Devil's Water and Swallowship Pool.
A family and their young children whom I was careful not to include in my photo's to respect their privacy were enjoying the water and small beach-like area.
Due to social distancing measures still in effect – we decided to skip dipping our feet in the pool and left the swimmers to their fun – besides, it was halfway selfie time!
Leaving Rachael to ascend at a much more sensible pace, I decided to jog back up the steep hill back to the main route, raising my heart rate to uncomfortable levels.
I was glad to be getting fresh air and exercise, but the short burst highlighted just how much fitness levels and waistline had suffered since lockdown began in March. 
Whilst on the home stretch, the yellow marked route takes you to the corner of some glorious greenfield which is a stark contrast to the woodland and was a great place to grab a quick second breather to bring my heart rate back into a normal range.
Between the greenfield and our parked car, along the final stretch of woodland were some truly massive Wellingtonia trees. It's difficult to capture in a 1:1 photo just how huge these are and lying on a floor crawling with ants to get a worm's eye view wasn't appealing – so a kneeling shot with Rachael for scale had to suffice.
And so, our first walk in 8 weeks came to a close, but not before spotting some wholesome pine-cone art left behind by a fellow explorer which helped solidify the positive mood brought about by the sorely needed fresh air, exercise and appreciation for nature in the North East.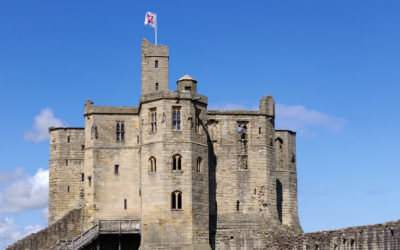 We needed a short walk for Rachael. It just so happens that Warkworth Castle is one of the shortest routes in our guidebook!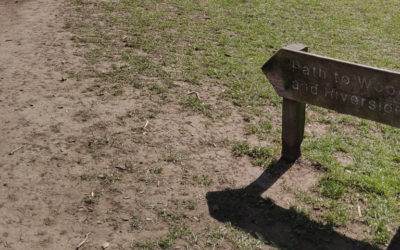 One of the shortest walks in the guide book was just over 2km at Plessey Woods – perfect for the heavily pregnant wife.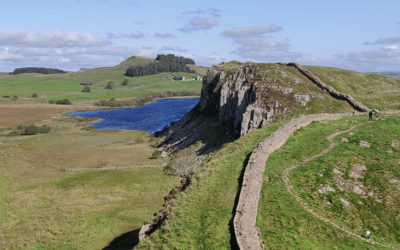 With what may just have been the final sunshine of 2020, a hike to the famed Sycamore Gap was in order.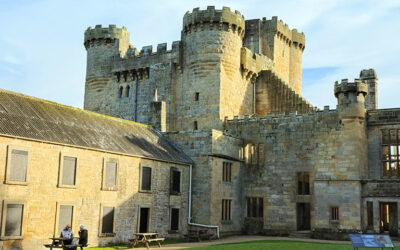 On a rare sunny but cold Autumn Sunday, we head to one on our hit list – Belsay Hall, Castle and Gardens in Northumberland.