Originally intended as walk #40,
A hike to the famed Sycamore Gap was in order to raise spirits with what may just have been the final sunshine of 2020. 
Start/End
Turn 1
Cottage & Turn 2
Sycamore Gap
Milecastle 37
Grandy's Knowe
As one of the longest walks in the guide,
It's fair to say Rachael was equal parts excited and mortified at the prospect of hiking 12km across 4 hours to 'see a tree'.
To sweeten the deal, I recommended that we check out Vindolanda Roman Museum first – however, upon entry we realised that the attraction had so much to offer, it needed its own day out. 
Leaving our car at Vindolanda (as we were paying customers), we set off back towards the main road.
The guide does recommend parking at The Sill Visitor Centre – with Vindolanda's car park reserved for visitors only. The circular route is the same no matter where you begin from.
Shortly after saying hello to a few friendly cows, and passing Causeway house – Sycamore Gap was clearly visible in the distance.
Stopping for a moment to eject our jackets which were not needed in the blazing heat – we took a couple of photos with our destination in the background.
It was here I realised my error by leaving my sunglasses in the car, but I honestly couldn't be bothered to treck back half a mile to collect them – opting instead for a grumpy picture instead.
After turning right at the main road and heading down and up a small valley – we arrived at The Sill which would ordinarily be the origin of this hike.
It was as this point, Rachael came to grips with the very hilly nature of this walk. The first ascent being towards Peel Cottage.
After successfully battling up the first hill of many and entering the field towards Hadrian's Wall, we were immediately met with our second down and up.
However, this 'up' was not like the first. As Rachael gingerly approached the base she realized the immensity of what lay before her and naturally began to complain.  
After a few muttered expletives and a few mid-ascent rest stops, we made it to the top and caught our breath alongside many other members of the public who had suffered equally.
Heading through another gate, the next valley presented itself and Rachael began to question whether we should turn around and head back.
As I had the car keys and water, I was in the position of power to encourage Rachael (read: tell her to stop moaning) and press on towards Sycamore Gap.
After one final valley was navigated, we were atop the hill overlooking the Sycamore Gap tree.
Many families had similar ideas to us that day with around 40 people on and around the tree when we arrived – including one selfish family who decided to ruin everyone's pictures by having a casual picnic next to the base of the tree…
After taking some quick photos and sweaty selfies which will not be shared here, we touched the tree as we departed onto the next section of the hike.
Fortunately for our determination levels and heart rates, the steep up's and down's of the route subsided to something a little more level along Pennine Way as we passed some abseilers with a deathwish preparing around Crag Lough.
Stepping through the marked gate, we bimbled along until the route takes a left turn onto, you guessed it, another steep hill.
After being mocked by some very vocal sheep and almost slowing to a snail's pace as we ascended our millionth hill of the day, we finally seemed to be at the top.
Here I assured Rachael that she had seen the worst of the hike as we headed towards Milecsastle 37 and Housesteads.
Just before reaching Milecastle 37, Rachael spotted a black beetle. It's fast becoming a WWTW tradition to try and get an artsy macro shot of a beetle, following on from the one we found on 📌 Humbleton Hill.
Realising that we were now a lot less sweaty then we were in the selfies at Sycamore Gap – we took this replacement which is a little more photogenic.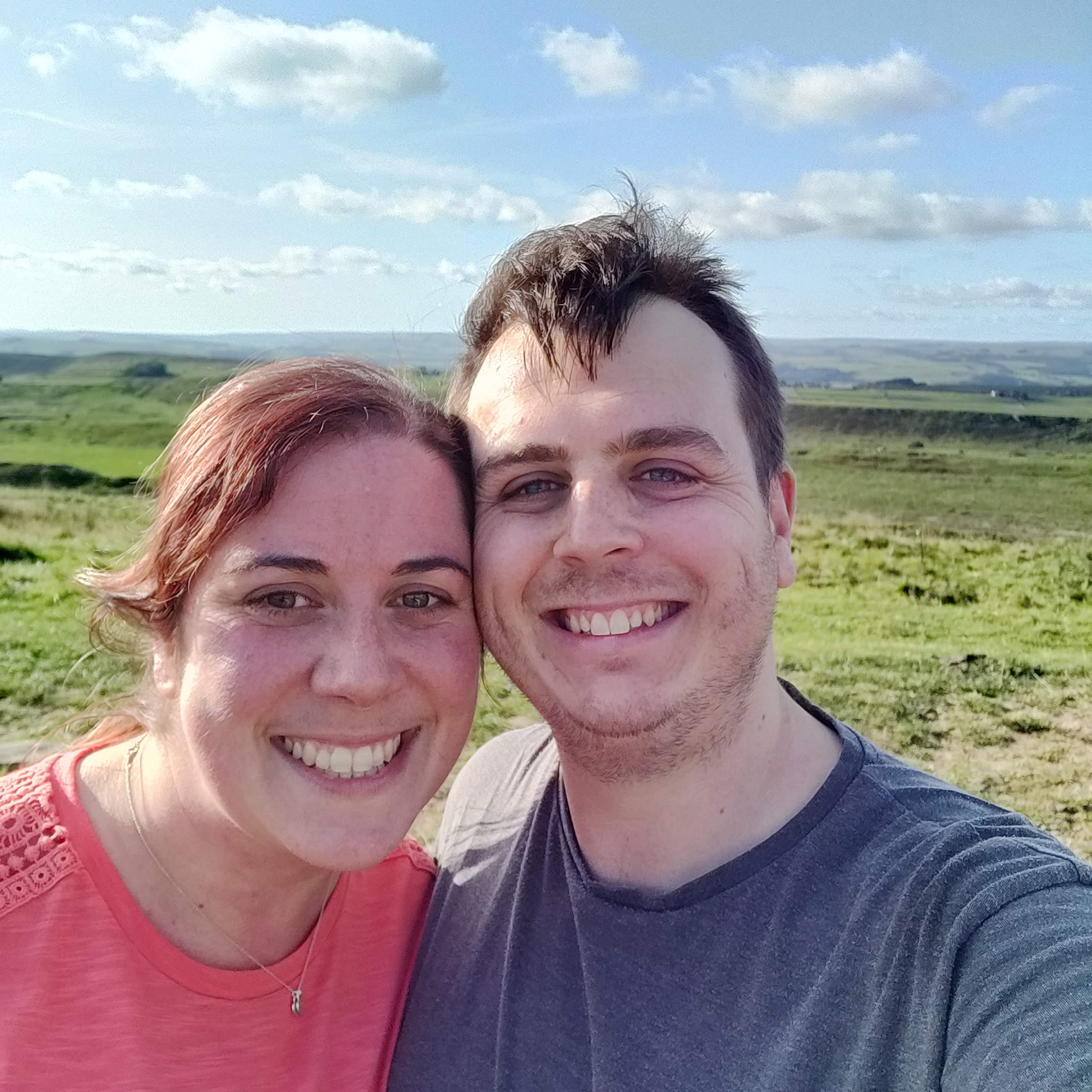 As we had forgotten to bring the guide with us this time around, it was here we tried to recollect when we were supposed to head back towards the main road.
Thinking it was meant to be at the Milecastle, but unable to see a clear and safe route back to the main road, we headed further along the top into Housesteads and to my delight happened upon the museum which had an 'Ice Cream sold here' sign outside – SCORE!
After paying £2.25 per Ice Cream (Worth it!), we realised that the guide probably did recommend to take the tarmacced path from Housesteads back down to the main road – however we did accidentally deviate slightly from the official route once we reached the B6318.
We spotted an unclear and muddy marked public footpath through the field but decided to take the officially marked road after consulting Google Maps and concluding that we could make it back to Vindolanda that way.
As we headed down this road into the gorgeous landscape, both Rachael and I noticed a stunning looking house atop a hill.
The house is dubbed Grandy's Knowe and after a bit of internet stalking, we found 📏 Doonan to be the architects of its construction.
We're seriously envious of whoever is lucky enough to live there, overlooking such stunning countryside day in and day out. 
As we rounded the corner from Grandy's Knowe, we passed by Crindledykes Limekiln (not pictured) before hitting the home stretch.
As the Vindolanda site came back into view, I stopped to take this picture of even more gorgeous countryside whilst I waited for an exhausted and hobbling wife to catch up.
As we got to the final road, the route had one last valley to throw at us. As we descended and enjoyed the easy-going, we knew what that meant for the way back up. The travelator as I've dubbed it in honour of the final challenge from the 90's game-show Gladiators – represented the final hill back up to the Vindolanda car park to complete the 12km in just under 3.5 hours.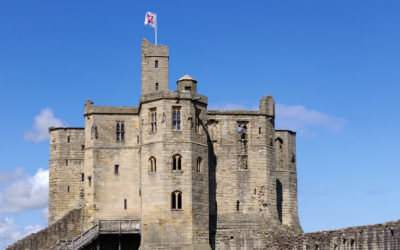 We needed a short walk for Rachael. It just so happens that Warkworth Castle is one of the shortest routes in our guidebook!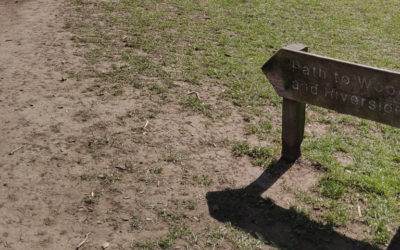 One of the shortest walks in the guide book was just over 2km at Plessey Woods – perfect for the heavily pregnant wife.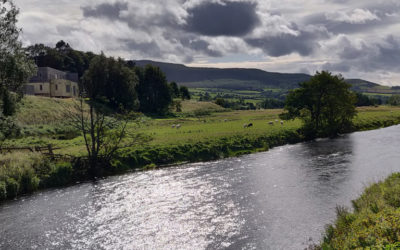 Making an afternoon of it on the short walk along the abandoned Old Rothbury Railway.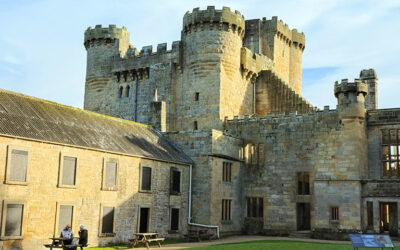 On a rare sunny but cold Autumn Sunday, we head to one on our hit list – Belsay Hall, Castle and Gardens in Northumberland.