First Things First,
Not only is this the first entry into the WWTW journal, but it's also the first entry I've decided to write from memory for the Walltown Quarry and the Nine Nicks route that was actually completed 2 weeks ago. Based on the fact a mild headache is already threatening whilst trying to remember the details – I will not be repeating this mistake in the future.
Route Details
3km (1 hour & 30 minutes)
Map OS Explorer OL43
Parking Paid & EV Charging
Once upon a sunshine-filled Saturday afternoon,
The wife suggested we go for a walk for some fresh air as the previous evening was full of alcohol and bad food.
Sounds good, but where would we go on a head-clearing walk?
The wife produced a small green book she had received for her birthday in October, 'Northumberland 40 Coast and Country Walks' by Jon Tait.
The time was 1PM, it was early January in the North East of England so naturally it was cold despite the piercing sunshine that was due to set in 3 hours (thanks Google).
I told the wife to pick somewhere quickly whilst I got the car ready. Each passing minute reduced the choices as we would not arrive before sunset – the race was on…
The wife chose the walk from page 70 of the book – Walltown Quarry and the Nine Nicks – a 90 minute walk starting at Walltown visitor centre. 56 miles away, we'd arrive at around 2:45PM, giving us 75 minutes before sunset for the 90 minute walk – Challenge Accepted!
We arrived at Walltown Visitor Centre shortly ahead of time and investigated the parking situation. It wasn't free, but the machine accepted card, which was good, because if it was cash only – I was going to risk it.
Setting off along Pennine Way via a clearly marked route we discovered what I'm dubbing the 📌Walltown Wooden Throne where the guide directed us to take a sharp left through a gate – directly into a field full of confused sheep. 🐑
At this point, the incline went from slight to steep – but as we didn't want to distress the pregnant ewes we marched on – in my case a little too quickly. As I reached the summit I spun around to the wife halfway up and still battling away – her face going a stronger shade of red by the seond.
After a quick break to catch our breath, hydrate and check the wife was fit to proceed we took stock of the parts of the ancient wall that lay before us. Even on a cold, overcast day it still made for some spectacular sights.
Walking alongside the wall from here, the terrain gets much more interesting – with more than one clearly worn route – the Wife took the 'safer' option whereas I decided to take the more 'adventurous' one.
Hopping from rock to rock at the top of a hill in strong winds may not be smart – but it was pretty fun.
After following the wall for around 10 minutes, we arrived at turret 45a.
Following a short argument as to whether we were to change course at turret 45a or 44b – which was much, much farther, we concluded this officially marked the midpoint of the route.
Confusingly, we had only taken 30 minutes to complete the more difficult half of what was meant to be a 90 minute route.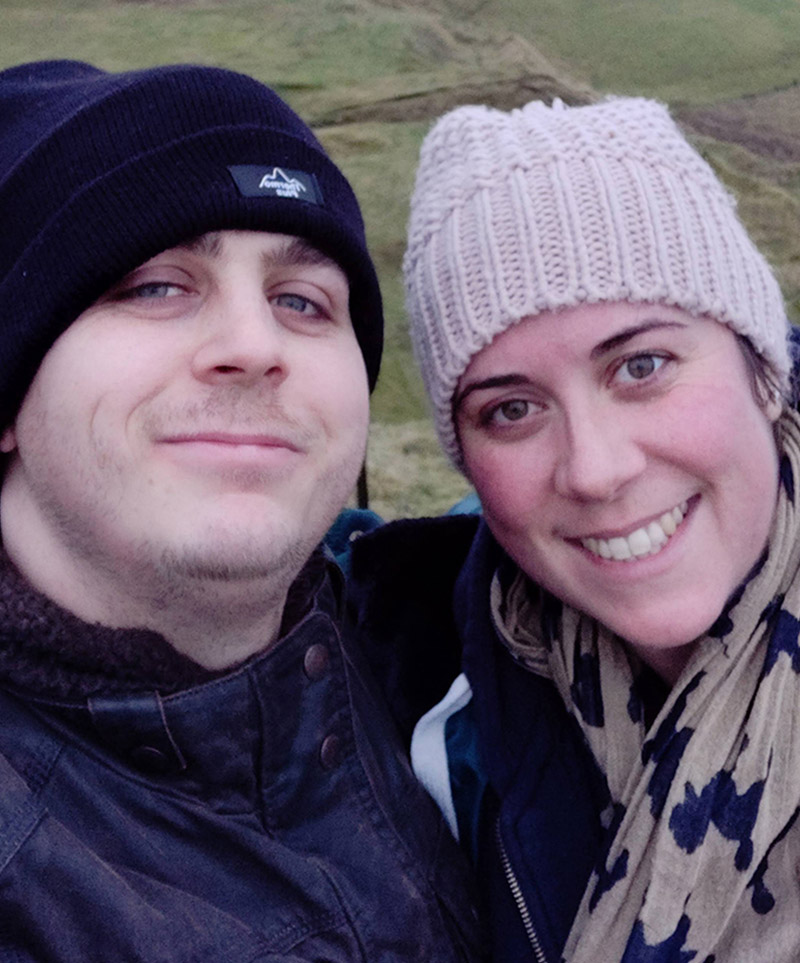 After taking a mid-point selfie – which will from now on be a WWTW tradition – we took in the surroundings and fresh air before planning our descent.
Here the path is not was not clear – and the wife and I began to debate which was the correct route to take.
I reminded Rachael about a similar situation a couple years prior where we inevitably went with her decision which led to us almost being left stranded in a field of heather and marshland with no phone signal – we were not to repeat this.
As we descended, (following my chosen route! 💪) hopping over the soggy ground in places we briefly had to walk past the sheep feeding station, much to the herd's disgust.
After saying hello 👋 to the sheep and reading the
English Heritage information board
we made our way down the road feeling confident we were headed in the correct direction back to the visitor centre.
I stopped to take an arty shot of an interesting tree as the road descended towards a cattle grid which we carefully navigated before ending up at a set of stone steps leading back to the start of the route.
As a completely unintended metaphor, these steps signaled the end to our first route, but the beginning of a much bigger journey to exploring the natural beauty of the North East of England whilst getting some much-needed exercise and fresh air.
We're thinking of making our next trip to the Morpeth Loops – hopefully next weekend as a gale force wind weather warning and a family incident have prevented any adventure since we completed this walk on Jan 4th.
Twenty walks for 2020 – 1 down, 19 to go.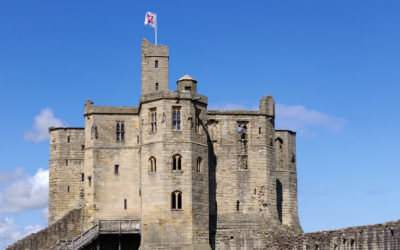 We needed a short walk for Rachael. It just so happens that Warkworth Castle is one of the shortest routes in our guidebook!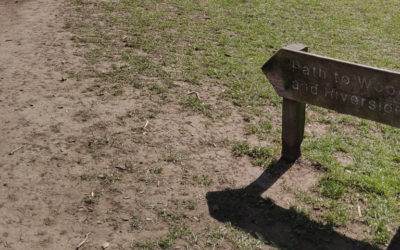 One of the shortest walks in the guide book was just over 2km at Plessey Woods – perfect for the heavily pregnant wife.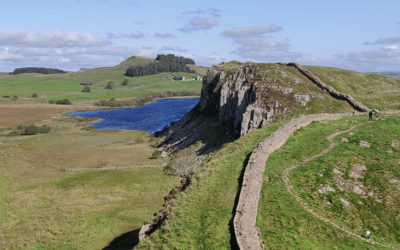 With what may just have been the final sunshine of 2020, a hike to the famed Sycamore Gap was in order.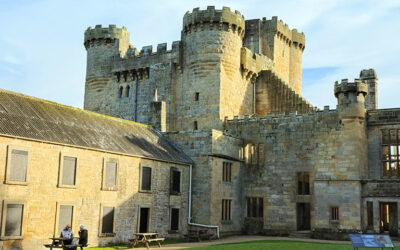 On a rare sunny but cold Autumn Sunday, we head to one on our hit list – Belsay Hall, Castle and Gardens in Northumberland.